#div-oas-ad-article1, #div-oas-ad-article2, #div-oas-ad-article3 {display: none;}
MORTGAGE TECH PRODUCT SHOWCASE
Black Knight's comprehensive LoanSphere Empower loan origination system (LOS) provides the functionality and scalability lenders need to support every facet of the origination process — from lead generation, processing and underwriting, to funding and post-closing — for retail, wholesale and consumer-direct lending channels.

System enhancements have been implemented over the years to support clients with compliance, improved workflow and business intelligence. Earlier this year, Black Knight introduced Empower Now!, offering a unique approach for implementing Empower.
"Empower Now! enables mid-market lenders, including regional banks, credit unions and independent mortgage bankers, to leverage many of Empower's robust capabilities, but with a significantly faster implementation timeline, as well as decreased maintenance costs," said Rich Gagliano, president of Black Knight's Origination Technologies division.
The LOS is a critical component of Black Knight's LoanSphere platform, offering integrated technology, data and analytics to support the entire mortgage and home equity loan lifecycle.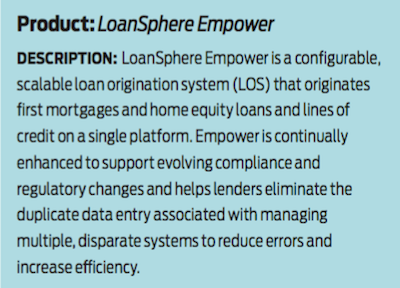 Empower features integrated digital technology and e-lending capabilities and direct access to Black Knight's enterprise business intelligence technology and is also integrated with Black Knight's industry-leading LoanSphere MSP servicing system. The combination of these technologies can help lenders become more efficient, increase profitability and provide better customer services to borrowers.
The system can be self-hosted or hosted by Black Knight and features product and pricing capabilities; a robust, automated workflow and task-tracking orchestration engine; an array of standard interfaces and a Web API to support the next generation of digital services.
"No other LOS on the market offers Empower's seamless integration of systems and services across the complete loan lifecycle to create a 'virtual loan' process that supports secure, controlled and accurate loan originations," Gagliano continued.
With underwriting requirements growing more complex, Empower offers the functionality to support product validation, investor guidelines, stipulation entry and tracking, counteroffers and approval escalations.
To further support lender compliance, Empower is integrated with LoanSphere Quality Insight, which helps lenders automate internal quality control reviews and validates pre-funding and post-closing data. Empower's integration with LoanSphere Closing Insight helps lenders collect and refine loan fees and its orchestration engine generates and tracks disclosure document delivery within mandated timelines.
Using Empower's advanced RESTful Web API framework, loan officers and consumers can view, add, update or check Empower data from smartphones, tablets, laptops or other internet-enabled devices, without directly accessing the LOS. Using the system's convenient eDelivery and eSign solutions, lenders can deliver documents and gain consent more quickly to speed up the loan process.
According to Black Knight CEO Tom Sanzone, "Empower's sophisticated capabilities can help lenders address the significant rise in origination costs, mitigate the potential for severe regulatory penalties and respond to increasing consumer demand for a digital user experience."