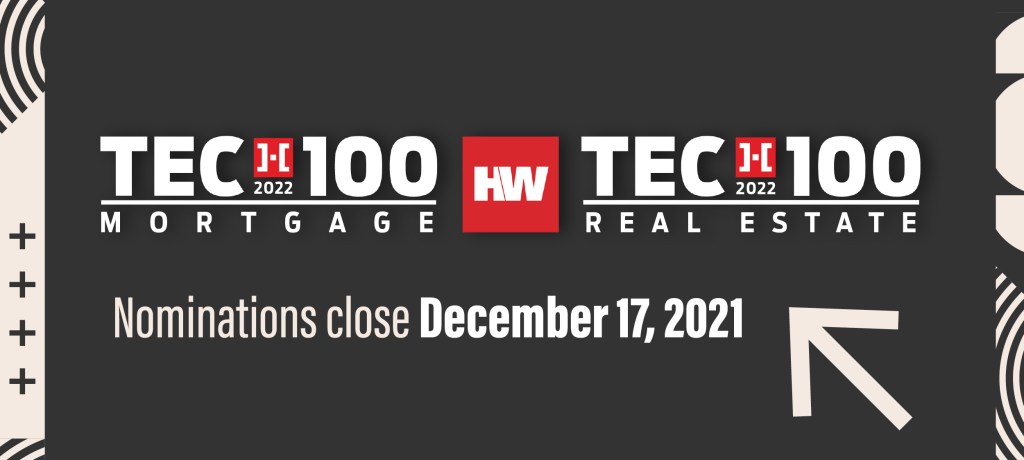 Recognizing the most innovative technology companies serving the mortgage and real estate industries.
Though loan originators and real estate professionals are collaborating more now than ever before, technology solutions have mostly stayed focused on one population versus the other.
The Tech100 Mortgage Award recognizes the companies and solutions that are revolutionizing the mortgage process – from origination to closing, and servicing to secondary markets. The Tech100 Real Estate Award recognizes the 100 technology companies that are changing the home sales process forever – from home search to lead management solutions, and remote closing to transaction management software.
Click one of the buttons below to register and begin the nomination process for Tech100 Mortgage or Tech100 Real Estate!
Program Details
The 2022 nomination period is now closed. Please check back next year for updates on this program!
Winners announced: March issue of HousingWire Magazine
Eligibility & Criteria
Firms need to meet the following basic criteria to apply for submission to the HW TECH100:
Offer technology and/or software that drives innovation in the mortgage or real estate industries.
The technology must be available in-market at time of application: no vaporware or pre-launches allowed.
Technology may be B2B (business-to-business) or B2C (business-to-consumer) in nature.
A Selection Panel of industry leaders will view and vote on submissions based on the "Market Served" category. The final list will be reviewed by a committee of HousingWire editors. All winners will be announced publicly with the launch of the March issue of HW Magazine.
Submissions are non-transferable and non-refundable.
Past Winners:
---
---
Frequently Asked Questions
1. What are this year's submission questions?
What's your elevator pitch?
Describe key technology
Demonstrate your impact with metrics. How are you measuring success? This is the right place to share the metrics that truly differentiate your company and product. What growth has your solution created for your clients? Has your technology improved cost efficiency? Do you have client success metrics and quantifiable industry impact metrics? Has your organization experienced outsized revenue growth? **All metrics provided in the section may be made public and used in winner profiles.**
2. Can I nominate my company for both the Tech100 Mortgage and Tech100 Real Estate awards?
Yes, we encourage companies that serve clients in real estate and mortgage to consider nominating for both programs or the single program that's most important to your business. Both programs will be judged separately and winning in one program will not preclude you from winning in the other. These are separate programs with separate awards.
3. Our company has more than one software platform and we serve multiple industries. Do we have to apply multiple times?
Each company will be evaluated by our Selection Panel and editorial team based on the industry and market they select with their submission, if you would like to be considered in more than one category an additional nomination is required.
4. Why am I being asked to pay before I see the submission questions?
Payment is required before nominators are able to access the submission form and begin the submission process. Once you click the red "Register here" button above, you'll be directed to the registration page for that particular award to enter your payment method. Next, you'll be directed to the submission form where you'll find the submission questions (see FAQ #1) in addition to basic information we need about the organization that is being nominated.
5. We want to know if [Company X] applied. Or we'd like to know how many companies applied/were nominated.
In the past we have received more than 300 nominations for the TECH100 program. We're expecting submission to increase exponentially year after year. Beyond that, we do not disclose if individual companies have been nominated for the program, nor do we disclose how many companies have received nominations in any given year.
6. Our software is proprietary and we want to share some things in our application that are private, so we can be accurately assessed. How do we do that?
The information submitted in a nomination may be published in the event the company is selected as a winner by our panel. We do not recommend including propriety information that you would not like to have published publicly.
7. The company I want to nominate doesn't advertise with HousingWire. Can they still be considered?
Yes! We want to capture the most innovative companies in the industry. Period.
8. We must have missed the listed deadline. We really want to be included, but this got held up in legal/we missed it until now/it was the holidays/we had other things we were focusing on/etc. Can we still apply?
Unfortunately, we have strict deadlines and all submissions/ nominations must be made prior to midnight Central time on the nomination closing date.
9. How much does it cost to nominate?
Submissions for Tech100 Mortgage are $695 and Tech100 Real Estate is $450 as it is a newer program that is just gaining steam.
10. We submitted a nomination. Can we know if we made it in prior to the official announcement for planning and/or marketing purposes?
We do not disclose the companies that make our HW TECH100 until the TECH100 HW Magazine issue is released; and will not be disclosing any information as to who made the cut prior to that date. When each year's award winners are announced, the business contacts at winning companies will receive notification of their inclusion as well as information to support any press statements and similar marketing measures.
Have more questions? Reach out to Lesley Collins
---
Award Materials, Licensing, Permissions, and Reprints
Each winning organization will be provided the award logo to use as they wish to promote their win.
For additional award materials, please visit our online store here.