The Appraiser Qualifications Board of the Appraisal Foundation announced it is drastically reducing the requirements to become an appraiser.
The board is responsible for establishing the minimum qualifications for real property appraisers in the U.S. Its qualifications are published in the Real Property Appraiser Qualification Criteria.
Attracting new appraisers continues to be a problem for the housing industry as most appraisers currently in their late 50s. And those who are in the field aren't mentoring a lot of trainees due to the lack of compensation and benefit, along with lender restrictions.
Back in May of last year, the Board of Governors of the Federal Reserve System, the Federal Deposit Insurance Corporation, the National Credit Union Administration and the Office of the Comptroller of the Currency even tried to ease the situation by allowing temporary practice permits and temporary waivers.
Meanwhile the housing industry continues to move toward a more automated systems, utilizing systems and data in some mortgage transaction and not going through the traditional appraisal route.
But now, the Appraiser Qualifications Board is updating its requirements to become an appraiser including reducing the college hours and even on the job training time.
Previously, a licensed residential appraiser needed 30 hours of college-level education, but as of May 1, 2018, no college education will be required.
A certified residential appraiser previously needed a bachelor's degree or higher. Now, however, the board is providing appraisers with six possible options of which the most simple is an associate's degree in one of the board's required fields. The chart below outlines each of the six options.
Click to Enlarge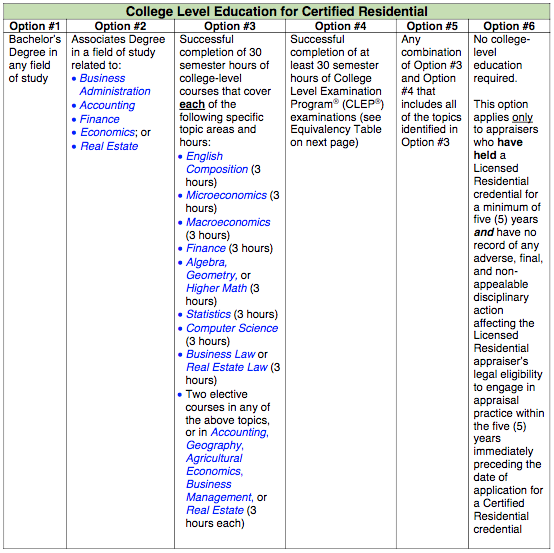 (Source: Appraisal Foundation)
Also, check out some of the changes below to the experience requirements. Most required hours and time taken to complete the hours were reduced by about half.
Click to Enlarge

(Source: Appraisal Foundation)
Appraisers, we want to hear from you. Will these changes help bring new recruits to the appraisal industry, or are they missing the mark? Let us know in the comment boards below.
More: