#div-oas-ad-article1, #div-oas-ad-article2, #div-oas-ad-article3 {display: none;}
MORTGAGE TECH PRODUCT SHOWCASE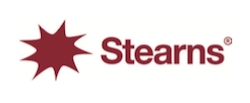 As a lender, Stearns wanted to transform the historically grueling mortgage loan process for its borrowers and loan officers into an all-digital, completely transparent operation on one platform.
"Getting a loan shouldn't detract from the excitement of buying a home — it should celebrate the unbridled joy of becoming a homeowner," said Uday Devalla, CIO. "Our consumers and partners expect a consistent level of digital experience throughout the process starting from the consumers' need to search for their perfect house to closing the loan on time and moving into their dream home. orijin was developed to provide this end-to-end digital experience that is simple, not rocket science."
orijin is a collaborative technology platform designed to solidify the customer and loan originator relationship from the very first contact throughout every milestone in the borrower's lifetime.
This customer-for-life approach goes beyond the mortgage process and supports the customer's new role as a homeowner. Features of the customer app (for both Apple and Android) will include capabilities they can use to manage and maintain their dream home — touchpoints that provide an ongoing connection without being intrusive.
While most digital platforms in the industry are limited to providing the basic application, document upload and status capabilities, orijin provides end-to-end capabilities to consumers and broker borrowers, enabling loan originators, partners and others to collaborate in real-time.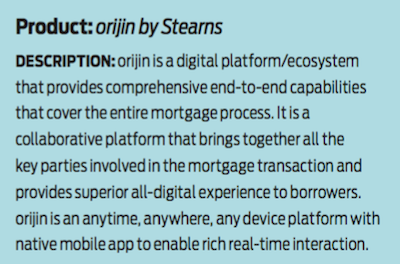 orijin streamlines the application process, reducing paperwork, providing timely financial verification, utilizing e-signatures and offering a way for borrowers to have real-time access to the status of their loan. It also expedites loan approval, enabling Stearns customers to become homeowners much faster.
"Because this technology features so many time-saving features and customer-centric benefits, we're able to serve more clients, more efficiently — without losing the critical personal connection. Less time wasted on tedious tasks translates to more time focused on borrowers and business partners," Devalla said.
Some of the most popular features among originators include a dashboard to access loan details, filters to view loans by status and actions, the ability to generate mortgage scenarios instantly and real-time approvals and requests pushed to customers.
For borrowers, orijin provides a real-time status center that enables them to take a peek at their application 24/7 using the online portal or mobile app, as well as a document submission element that lets them snap a photo and upload it. In addition, the platform includes an online authorization component, saving them a trip to a physical office location.
"Our ultimate goal is facilitating our customers' dreams of homeownership. orijin empowers our customers, our employees and our partners to take control of the mortgage experience, resulting a smooth process that gets everyone to the closing table faster — and borrowers into their new home sooner," David Schneider, CEO, said.