Up until this year, the Federal Housing Administration has not reduced annual mortgage insurance premiums since January 2015. But before that, there was long history in how the MIP has seesawed up and down.
The 2015 reduction came in a series of increases and reductions that have taken effect since 2010. And before the increase in 2010, there was a long standstill in mortgage insurance premiums, which the Mortgage Bankers Association puts into context in its latest chart of the week.
The MBA calculations use data in the Actuarial Review of the FHA Mutual Mortgage Insurance Fund Forward Loans for fiscal year 2014. The MBA calculated the total mortgage insurance premium using a 5:1 ratio to convert the up-front premium and add it to the annual premium.
Click to enlarge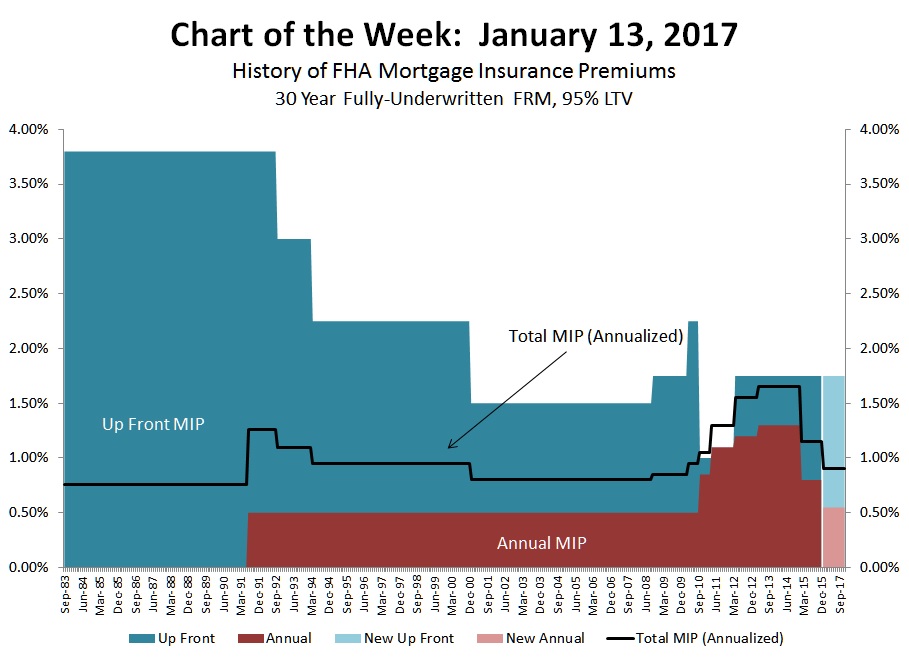 (Source: MBA)
On Jan. 9, the FHA announced that it is cutting its annual mortgage insurance premiums for the second time in two years, sneaking the cut in right before President Obama exits office.
According to the FHA, it will cut the annual mortgage insurance premiums most borrowers will pay by one-quarter of a percentage point, or 25 basis points.
The FHA said that it projects that its new premium rates will save new FHA-insured homeowners an average of $500 in 2017 alone.
According to the FHA, the cut applies to new mortgages with a closing or disbursement date on or after Jan. 27, 2017.
In 2015, the MMI Fund reached its Congressionally mandated threshold of 2% ahead of schedule, a feat that surprised many observers considering that it came after the Obama administration announced a 50 basis point cut in annual mortgage insurance premium prices in January 2015.