Right up there with KIMOJI and Fitmoji by Shaun T, Realtors now get their own emojis to call home.
If the moving boxes and two house options on Apple's emoji list weren't enough, you're in luck.
The California Association Of Realtors launched an emoji keyboard specifically for Realtors, containing more than 30 Emojis.
Here is a screen shot of the Realtor-centric emojis Realtors, and not only CAR Realtors, can choose from.
But first, feel free to download it on your own by searching CARmojis.
Click to enlarge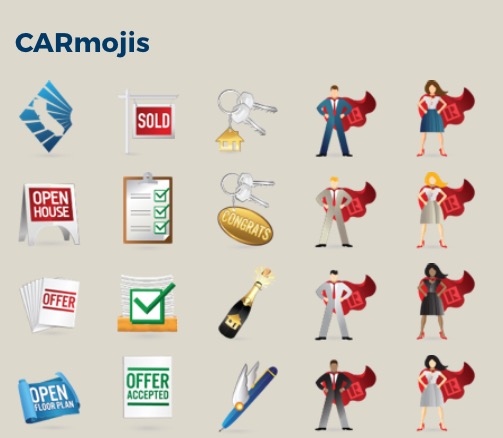 (Source: CAR)
"With the vast number of Realtors communicating with their clients via text messaging and email, it only made sense to add a little fun and excitement to some of these messages," said CAR President Pat "Ziggy" Zicarelli.
CARmojis is available in the Apple App Store and the Google Play store.
Here are a few other fun emoji article as the tiny pictures that evict all the fun emotions Realtors, buyers and sellers want gain popularity.
Can you decipher this emoji listing for The White House?
Here are the answers to the emoji homebuyer challenge